Après de longues vacances, il est temps de retravailler ! J'espère que vous allez bien et j'en profite pour vous souhaiter une bonne année 2009 !
Catherine a sorti un somptueux kit aujourd'hui ! Nous sommes encore en hiver chez nous donc vous trouverez encore de belles photos à scrapper avec ! Moi, j'ai utilisé une belle photo des filles de Vickylilly.
Winter retreat ( 20 % aujourd'hui )
It's time to work ! Holidays are finished ! Hope everybody is fine. My bests wishes for you this year.
Today, brand new, Winter retreat by Catherine Designs. Sure, you have a lot of picture of winter to scrap ! This kit is a must-have. Hurry up if you want have 20 % off.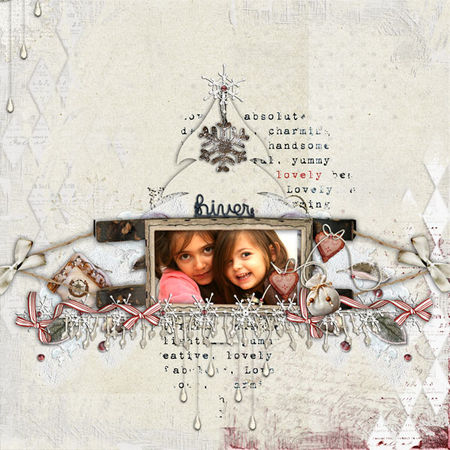 Credits : Winter retreat by catherine designs, Grunge Word art vol.2 by bisontine

Je reviens très vite (demain lol) avec un nouveau kit qui me tient très à coeur.
I come back very soon (tomorrow lol) with a new kit very special for me.

Hugs